Marketing is a process to have communication between the company and consumer that aims to increase the value of a company, in simple words marketing is the process to make people aware about the products and services provided by the company in terms to increase the profile of the company and have good will among the public.
Marketing process basically consists of activities such as advertising, promotional offers, communications, and deliverables. It targets to the market by understanding the behavior of the consumer. It provides a link between the society's requirement and services of the company to result with the increase in sale profit of the company.
Marketing is required to keep awareness of your services among people. No marketing means having a business in a dark room where nobody can see you neither your products which result with a loss in business.
This includes the coordination of Product, Price, Place and Strategy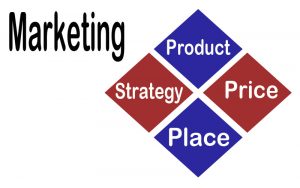 Product: Product refers to an item or items a business intends to sell, Company needs to identify answers to some questions such as what is the demand in the market regarding the product that company is selling? what kind of expectations does the customer have?  what kind of services users are expecting from the company? what are the competitors providing? what is the quality of products competitors are providing? what kind of reviews are provided by users?
Price: Price refers to how much the product is likely to cost. In this, company needs to identify what's the best selling price they can provide? the company has to decide what kind of users they have to target so as to fix the cost of product accordingly. What are competitors providing? how much more users they can target based on cost by having the best margin.
Place: Place refers to the distribution of the product. Key considerations include whether the product is going to be sold through a physical storefront, online or both the mediums are available. If it's going to be in store than company needs to decide how to attract the users in other places and for online products company needs to take care of the promotions among all areas and good customer service for online users
Strategy: Finally Strategy or Promotion refers to the marketing communications, It can be the promotional campaign, advertisements in media, online, personal selling, sales promotions, public relations, direct marketing, sponsorship, exchange offers(if applicable), discounts, coupons. There are heaps of strategies available. the company needs to decide what is the best strategy for their services and products
depending on all above aspects company have to take management level decisions that who,what,when and how will execute their promotional offers so as to target a maximum number of users being converted to their customers with having positive relations among the consumers.